Peter Criss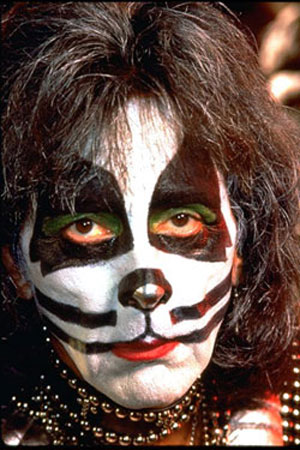 ---
Discography
Links
Description
Peter Criss is best known as the catman drummer of the hard rock/heavy metal band Kiss. Prior to joining Kiss, Peter played drums in several bands. The most famous of Peter's pre-Kiss bands was a folk rock band called Chelsea. Chelsea signed a record deal with Decca Records, and released a self-titled album in 1970, but the album bombed, and Chelsea disbanded soon after that. Peter then formed a band called Lips with Chelsea bandmates Stan Penridge and Michael Benvenga, but the band was never able to get a record deal, and soon disbanded. Desperate to find a successful band, Peter posted an ad in Rolling Stone Magazine, stating, "Drummer...willing to do anything to make it." He soon received a call from Gene Simmons and Paul Stanley, two musicians who were looking to form a powerful new band after walking away from their previous band, Wicked Lester. After seeing Peter perform at a club in Brooklyn, Gene and Paul hired him on the spot, and the rest is history.
When Kiss began wearing makeup, Peter decided to take on the persona of a cat, because he felt he had nine lives to survive his rough street upbringing in Brooklyn. At first, Criss sang songs written by Paul Stanley. In 1976, on Kiss' album "Destroyer", he sang his hit ballad "Beth", which he originally called "Beck". The song became one of Kiss' most popular songs to date. His solo album in 1978 was the most unique of the four solo albums, featuring mostly jazz style songs. The album met with heavy criticism from both fans and his bandmates, and this affected Criss deeply. The 1979 Kiss album, "Dynasty", was the last Kiss album that Criss would participate on.
Criss left Kiss in 1980 to pursue a full time solo career. His second album, Out Of Control, was released in 1980 on Casablanca Records. It had a harder rock edge to it, but failed to sell well. It wasn't even available in the U.S. very long before going out of print. The album was reissued on CD in the U.S. in 1998.
Criss' third album was called Let Me Rock You, released in 1982 on Casablanca. This album was never available in the U.S., and also quickly went out of print. It was reissued on CD in the U.S. in 1998.
After only releasing two solo albums, Criss tried to get involved with other bands, including The Alliance and Balls Of Fire, but neither band issued any recordings. Feeling that he couldn't escape his Kiss past, Criss dropped out of the music scene altogether, only doing sporadic appearances with other artists. Then in 1990, he formed The Tree/Keep Project with former Kiss guitarist Mark St. John. This band would eventually become the band Criss, which signed a record deal with a small independent record label called Tony Nicole Tony Records. An EP, simply titled Criss, was released in 1993, and featured two songs, "The Cat" and "What You're Doin'", which never made it to the full-length release.
Criss' one full-length album, Criss-Cat #1, was released in 1994. Shortly after, Criss and his band went on tour with his former bandmate, Ace Frehley, and his solo band. The tour was called "The Bad Boys Of Kiss" tour.
Criss then went to a Los Angeles Kiss convention, where he met Paul Stanley and Gene Simmons. He performed with Kiss on the "MTV Unplugged" album in 1996, then officially rejoined Kiss afterwards to go on a huge worldwide tour in 1996-1997.
In 1998, Kiss' original lineup released the album "Psycho Circus", and Criss toured with Kiss again through 1999.
In 2000, Kiss started on their final tour, known as "The Farewell Tour". Then in January, 2001, Peter demanded a new contract with Kiss with a higher salary. Negotiations for the new contract broke down, and Peter left Kiss for the second time. Instead of music, Peter tried his hand in acting, appearing on the HBO series "Oz" as one of the inmates. Then he appeared with Gene Simmons at the launch party of Simmons' magazine Tongue, and was interviewed by Simmons for one of the issues. Peter held nothing back in the interview, as he spoke his feelings about his Kiss bandmates. It seemed that Peter's comments would lead to more hard feelings, but when Kiss announced plans to perform with a symphony orchestra in Australia in 2003, Peter once again joined Gene Simmons and Paul Stanley to announce his return to Kiss.
Besides his work in Kiss, Peter keeps himself busy with other projects. He launched his official website in the fall of 2002, and has appeared in various charitable events like Families For Freedom. He will probably continue to act as well as make music. Whatever he does in the future, Criss' legacy is secure as being a vital part of one of the greatest rock and roll bands of all time.